CHESS TOURNAMENTS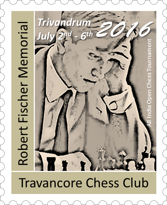 TCC All India Chess Tournament Series, Robert Fischer Memorial 2020 will be held in January 2020. In addition to the 5 day Open event, a 4 day category 1800 tournament will also be held in April 2020.
Further details will be posted here shortly.
Robert Fischer Memorial 2016 was held at Technopark Club, Trivandrum with participation by 236 players from all over India including 2 Grand Masters & 3 International Masters.
Besides the internationally rated Robert Fischer Memorial series, Travancore Chess Club also occasionally conduct State and District level Chess tournaments and regular tournaments for Club members and Chess Academy students.